Last year's Easter may not have been as joyous due to the restrictions and health concerns but luckily, it's that time of the year again! With Easter being right around the corner, I'm sure everyone is excited to hide chocolates in Bunnies and enjoy an Easter Egg Hunt with friends and family (while staying safe). 
Now, while this does sound fun, there is one question that comes to mind. What candies and chocolates should we get to make this Easter extra fun and special? Well, don't worry about it because we've got you covered with this list of the 21 best Easter Candies you can buy now!
Best Easter Candies

These yummy milk chocolate treats are wonderful to both eat and look at since they are shaped like cute golden bunnies, perfect for Easter! The golden wrapping also adds to their rich taste and look
Buy Now on Amazon.com for only $14.75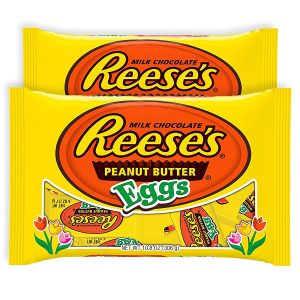 These Egg-shaped delicious Reese's peanut butter chocolates bring the delicious peanut butter flavour of Reese's and puts it in a fun small pack. Perfect for hiding and using in your Egg hunts to make them a bit more fun!
Buy Now on Amazon.com for only $13.00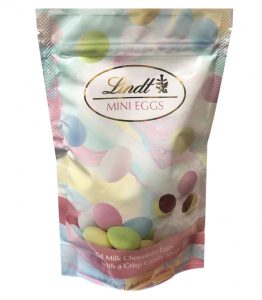 Oozing with class and fun at the same time, these amazing Easter-themed chocolate eggs are the best for hunts and more with the best part being that they come in multiple colours. All of them are made from 100% milk chocolate.
Buy Now on Amazon.com for only $14.27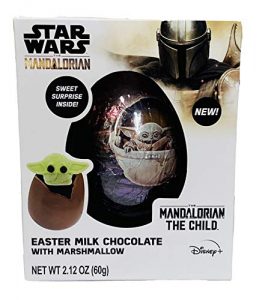 Are you or someone you know madly in love with baby Yoda? Well then, with a cute baby Yoda figure hidden inside a chocolate easter egg, this will probably make them jump for joy! Perfect for eating during Easter or even while binge watching The Mandalorian.
Buy Now on Amazon.com for only $11.45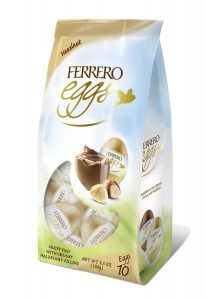 Ferrero Rocher is definitely one of the best chocolates out there on the market and they surely couldn't miss out on the Easter joy! They have come up with their own spin-on Easter eggs with these delicious Crispy Hazelnut chocolates that'll make your mouth water for sure!
Buy Now on Amazon.com for only $17.00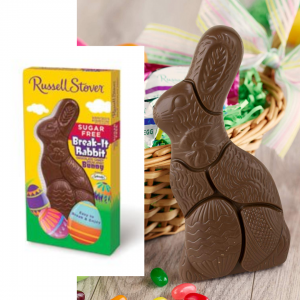 This chocolate rabbit is probably one of the most fun items on this list. This delicious bunny is made with different connected parts so that it can be broken apart easily making sharing with friends and family so much easier. The chocolate used is also totally Sugar-Free making it good for keeping an eye on your health during the festivities.
Buy Now on Amazon.com for only $9.30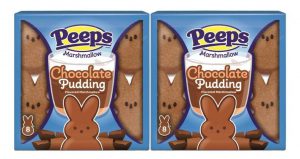 What are 2 things that pretty much nobody hates? Chocolates and Marshmallows. Now who wouldn't want to get both of these combined in one delicious treat? Well, this treat from Peeps has you covered with its Chocolate Pudding flavoured Marshmallows perfectly made as bunnies to make your taste buds dance!
Buy Now on Amazon.com for only $5.79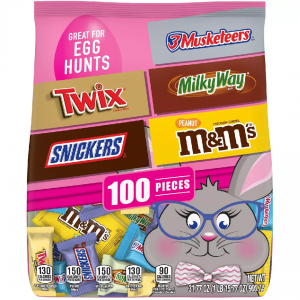 Combining chocolates from Snickers, M&M's, Twix, Milky Way, and more famous brands, this treat is sure to make everyone happy no matter what they like. An added bonus is that the pack is filled to the brim with 100 individual mini chocolates and candies making it perfect to fill up easter baskets and candy dishes.
Buy Now on Target.com for only $11.59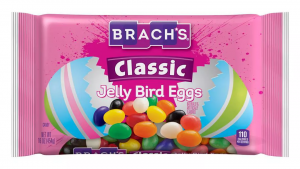 These jelly bird eggs are a change from the usual chocolate eggs everyone is selling. Made totally from jelly, these'll be a fun change to the chocolates and that too without breaking your budget at only $2.99 a pack
Buy Now on Target.com for only $2.99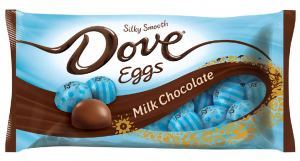 Just one bite into these mini eggs will leave your mouth filled with Dove's silky smooth milk chocolate. All chocolates are made from 100% smooth Milk Chocolate.
Buy Now on Target.com for only $3.99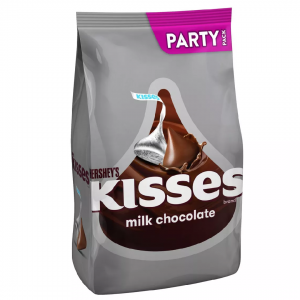 While they may not be shaped like eggs or bunnies like the rest of the chocolates here, Hershey's Kisses are a must have. They are small little chocolates available in all types of flavours and colours and are a staple treat for any and every occasion.
Buy Now on Target.com for only $8.49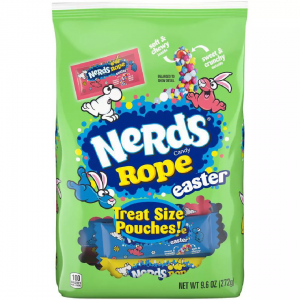 Nerds has come up with their own treats for Easter and they are surely perfect for kids of all ages. Coming in small treat size pouches, you don't need to worry about who gets how much of these cool rope candies.
Buy Now on Target.com for only $6.49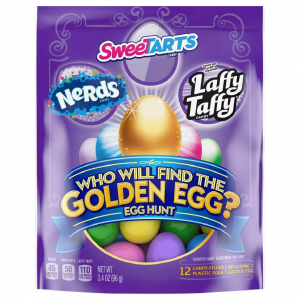 This tie-up of companies combines multiple chocolates and puts them inside eggs with different chocolates in each! They have also added a single Golden Egg making this perfect to add a fun treasure at the end of any Easter Egg Hunt.
Buy Now on Target.com for only $6.49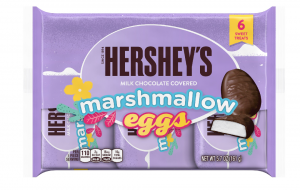 Hershey's has always been at the top of the marshmallow chocolate candies with their smores chocolates and now they have made one for Easter as well. Biting into one of these egg-shaped chocolates will surely be memorable due to the soft marshmallow under the classic Hershey's milk chocolate.
Buy Now on walmart.com for only $3.48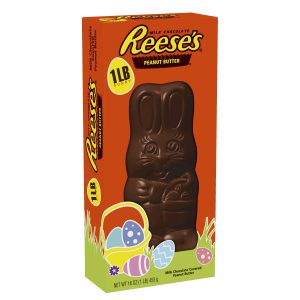 At first glance this bunny may seem a bit creepy but don't let that fool you. This chocolate has been around for many years and has captured the market for a reason, its taste. This 1-pound chocolate bunny is filled to the brim with Reese's delicious Peanut Butter so I guess you could call it more of a "Beautiful on the inside" kind of chocolate.
Buy Now on walmart.com for only $10.98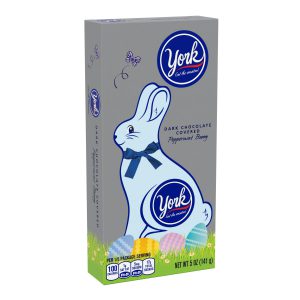 With everything being about chocolate the other flavours don't really get to shine but fret not because York is here with this unique combination of flavours for your Easter wishes! This chocolate bunny is covered in dark chocolate and filled on the inside with delicious peppermint!
Buy Now on walmart.com for only $3.88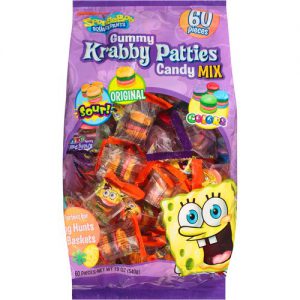 Aye Aye Captain! Bringing 2 of our favourite things together, SpongeBob and Easter, this candy is just a rush of yummy nostalgia. The pack is full of 60 jelly Krabby Patties in different styles (Sour, Original, and Colour) making sure that everyone gets to have what they like.
Buy Now on walmart.com for only $5.88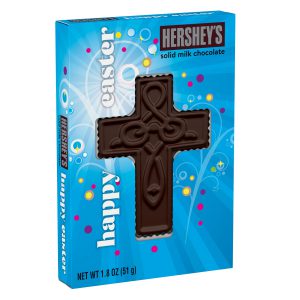 Not to forget why Easter is celebrated, this chocolate is shaped like a cross perfect for Easter. The whole cross is full of solid milk chocolate meaning every bite will fill your mouth, definitely something I'd want to eat!
Buy Now on walmart.com for only $2.00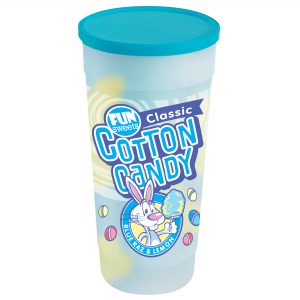 Fun Sweets Cotton Candy treat gives you the delicious memory of going to a carnival all from the luxury of your own home. Combining the delicious flavours of Blue Raz & Lemon, this candy treat is a new spin on classic cotton candy.
Buy Now on walmart.com for only $2.00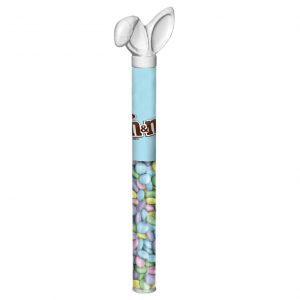 Don't let these cute little candy canes fool you with those bunny ears. They are filled to the top with assorted colours of milk chocolate M&Ms and that too at the low price of just $2 per cane making these something you can have one after another!
Buy Now on walmart.com for only $2.00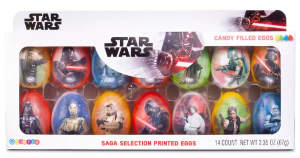 Perfect for the Star Wars fan during Easter, these candy-filled eggs can make any Easter egg hunt a lot more fun. All eggs custom printed with most major characters from the franchise so you can eat with your favourites!
Buy Now on Target.com for only $6.49