With everything that is going on around us in the world, safety and health have become important aspects of our lives. Everything from normal day-to-day activities are things we have to be more aware of to ensure that we remain safe from the ongoing pandemic. While masks are helpful outside, one cannot wear them at all times indoors. Due to this, the solution for your home and car comes down to air purifiers.
An air purifier is a device that removes contaminants from the air around it in a room or enclosed space. These devices are now being made to be able to kill harmful bacteria and viruses as well as more basic features such as removing odours and allergens. While it may be a great thing to have, there are many options to choose from with different features and specifications making it a confusing decision to make. Thus, we have created this list of the best mini purifiers for you to keep your room fresh and safe!
12 Best Mini Air Purifiers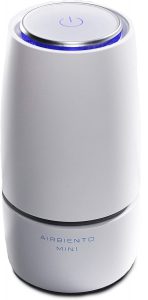 This air purifier from Airbiento is very compact and perfect for car and home usage. Weighing in at less than 1 pound and being able to fit in the palm of your hand makes it something that you won't even notice sitting in the corner of your room purifying away. It needs to be plugged into a micro-USB port to work and is activated on a single button push. The purifier a true HEPA filter with triple filtration and pm 2.5 elimination to keep your room and air safe.
Amazon Rating – 3 Stars

USP – Very Compact and easy to carry in your hand due to its round shape
Buy Now on Amazon.com for only $24.99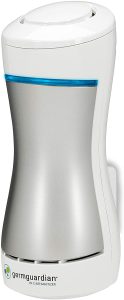 This Air Purifier plugs in directly to your wall and gets going. Coming in at 7 inches in height, it is also quite compact making it perfect to fit into any wall socket or plug point. The workings of this purifier are a bit different as it utilizes a UV-C light method to kill bacteria and germs in the air. This works by shining a UV-C light on the air passing through inside which in turn kills viruses such as influenza and more. This system also doesn't need regular filter change and a simple bulb change 1-2 times a year will work.
Amazon Rating – 4.4 Stars

USP – UV-C light filtration system
Buy Now on Amazon.com for only $27.99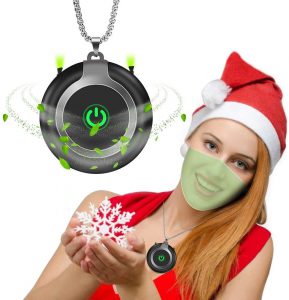 When it comes to compact and easy to carry around, this mini air purifier necklace from OVICISK takes the win. It is a fully functional air purifier somehow managed into a small necklace that you can carry around with you. It is USB charged and a 2-hour charge will last this device up to 48 hours of use time. It is also super quiet and at 25 decibels can even be used while sleeping. The filtration system is air ionizing which means that it shoots negatively charged ions into the air which stick to pollutants and make them fall to the ground, cleaning the air.
Amazon Rating – 4 Stars

USP – Necklace design and Chargeable portability
Buy Now on Amazon.com for only $24.99

Truly a very sleek-looking device, this purifier is made by YEHOBU and provides a 3-stage filtration system consisting of a HEPA filter, Active Carbon, and a normal air filter. The device is 7 inches tall and is made from sturdy materials with shock and slip-proofing features in it. The LED screen on the top displays active settings and provides options to adjust fan and lighting modes which are quite cool.
Amazon Rating – 4 Stars

USP – Sleek Design as well as High-Quality Build
Buy Now on Amazon.com for only $39.99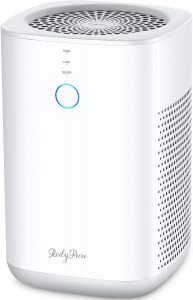 This purifier is more on the powerful end and the company claims that you will begin feeling the difference in air quality with just 10 minutes of this device being on in a small room. This device captures up to 99.99% of small pollutants by using a 3-stage system containing an H13 HEPA filter which is a medical-grade air purification filter. While this makes it a powerful air cleaner, it has fan settings and even a sleep mode that brings it down to 24 decibels of sound so you can sleep at peace with this device on. As far as safety is concerned, this device is 100% ozone-free, ETL listed, and FCC certified so you can rely on it.
Amazon Rating – 4.5 Stars

USP – Medical Grade filtration system and powerful device
Buy Now on Amazon.com for only $59.99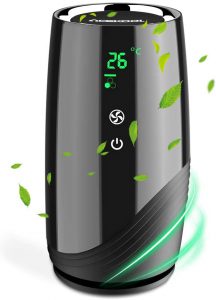 Another device that offers an H13 HEPA Filter, this purifier from AceKool offers the same 3-stage system as offered by RedyPure in the previous device. This device offers an in-built LED display that provides information such as a Filter Replacement Indicator, Temperature Indicator, and Humidity Indicator which is all useful information to have. The device is very quiet coming in at 25 decibels or less and comes with a 1-year company warranty for service.
Amazon Rating – 5 Stars

USP – LED Display with Humidity and Temperature Indicators
Buy Now on Amazon.com for only $39.99
While this may be another H13 HEPA Filter using device, it is more powerful than the others on this list. This purifier from Miko is 13 inches tall and 11 inches wide making it perfect for keeping in a single room as is its purpose. The device uses a 360-degree air intake system to quickly purify larger rooms. It has touch controls that allow you to use its various features such as variable fan speeds and an in-built timer. The sound range is decent and it offers an essential oil added filter to make the air clean and fresh all around you. All of this makes it worth the extra price.
Amazon Rating – 4.5 Stars

USP – In-Built Timer and Essential Oil Amplifier
Buy Now on Amazon.com for only $99.99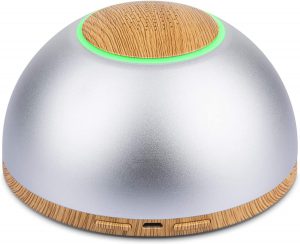 This tiny device from Dison (Not Dyson) weighs in at just 0.3 kilograms and is only 4 inches wide. It is perfect for any counter or desk as it barely takes up any space at all. The device works as an Ozone Generator and can output 50g of Ozone per hour making it quite efficient for its size. It has 2 working modes which are-
Long Period Working Mode: In this mode, the machine will run for 5 days with intervals often. The green LED light will flash and the device will run for 1 minute every 2 hours

Efficient Working Mode: In this mode, the machine will run for 1 hour with equal intervals. The blue LED light will flash and the device will run for 10 seconds then stop for 10 and repeat.
Amazon Rating – 3.5 Stars

USP – Small Size and Various Working Modes
Buy Now on Amazon.com for only $33.95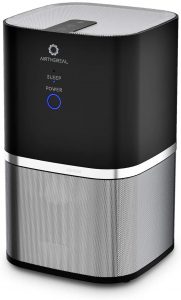 Airthereal has come out with this very cool-looking air purifier device. It is a decent 10 inches tall making it a perfect fit on this list and uses a True HEPA filter for purification. This HEPA filter is combined with 2 more and other factors which Airthereal claims to be a 7-stage filtration process. There is also an in-built filter change reminder so you always get the best possible efficiency out of this product.
Amazon Rating – 4.5 Stars

USP – Sleek Design and Powerful Filtration System
Buy Now on Amazon.com for only $33.95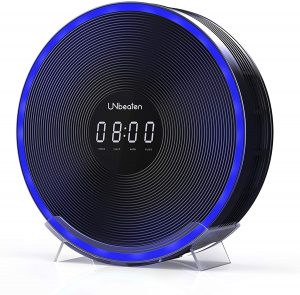 As you can probably see, this is quite a unique device when it comes to its shape and utility. This purifier from Unbeaten is shaped like an upright short cylinder and is about 11 inches when placed in this orientation. It also provides a 3-stage filtration system with a true H13 HEPA filter inside of it as well as various fan speed modes. What is cool about it though is that it doubles as a cool night light with a clock in the center so you can keep it on your bedside for that purpose while getting your air cleansed.
Amazon Rating – 4.5 Stars

USP – Clock design perfect to replace Night Light and Bedside/Table Clock
Buy Now on Amazon.com for only $33.95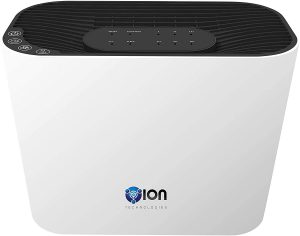 While this may not be the prettiest looking of the purifiers on this list, this one from OION packs a punch at its price point. It is only 8 inches tall and 10 inches wide but provides a powerful 4 in 1 filtration system. This works by using a Pre-Filter, HEPA filter, and Carbon Filtration system combined with UV-C light to kill harmful viruses and bacteria. The device is also very quiet and has 3 different fan speed settings on offer so you can adjust it according to your needs.
Amazon Rating – 4.5 Stars

USP – 4 in 1 Filtration System with UV-C light
Buy Now on Amazon.com for only $57.95
This Purifier from M0olekul is the priciest on the list but along with that offers an insane amount of features and benefits. It uses a unique PECO filtration process that inculcates nanoparticles in the process of purifying the air around it. This is backed up by a 360-degree air intake which helps it kill various types of allergens, bacteria, pollutants and more. This /purifier is 30 cm tall and has 5 fan speeds providing a large amount of room for preference.
Amazon Rating – 4.5 Stars

USP – PECO Filtration System
Buy Now on Amazon.com for only $349.00