1. Welcome fall into your home with this lovely Sunflower and Pumpkin Wreath that creates an enjoyable autumn ambiance around your house in the harvest season.
This stunning fall décor can be used to decorate your door or fireplace in several designs. These mini Pumpkin and Maple leaves are perfect for Halloween and Thanksgiving Days decorations. This artificial wreath adorned with fake pumpkin, has turned my holiday season lighter.
You can also get this from Windandweather.com for $99.95 
2. This multipurpose textured, Recycled Cotton Round Woven Pouf is a convenient side tabletop ideal for your comfortable sitting. It is perfect multifunctional accessory for the footrest and extra set to your room decor with extra soft seat for your guests.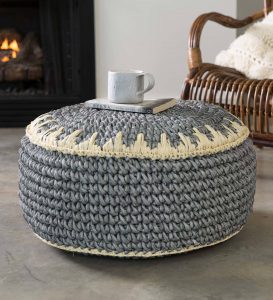 They are fantastic for sitting on the floor and a simple way to incorporate pop up seating while meeting your mates-ideal for watching TV and playing games in my house. You'd love it too.
You can also get it from Vivaterra.com for $159
3. Set your nights alight with the 80 hours long stretch  Candle Glass globe to add a soothing and pleasant vibe to your room. This is specially designed to keep off the toxicity of dust and malodours out of your holiday celebrations.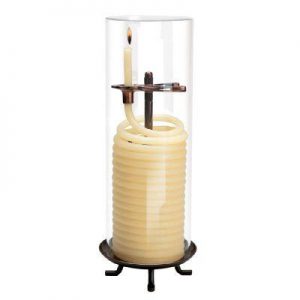 Get this from Homedepot.com for $36.98
4. This Bee & Willow Home Harvest Pumpkin brings seasonal charm into a shelf, porch field, and Halloween table. It is used to cast a cosy glow and add a decorative look to bring some shine to your kitchen and bedroom.
The pumpkin fall decoration, made from high-quality metal and hand-painted with care is robust and durable enough for years of use.
You can get this from Bedbathandbeyond.com for $39.99
5. Illuminate the Christmas season with these wooden warm-light pillar lantern to give your home a chic holiday look that can be used outdoor and indoor in a sleek and elegant fashion style.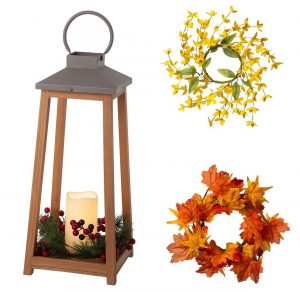 This is an enticing home decoration for wedding, picnic, Fall Harvest, Halloween and Christmas with its natural wood look, as well as the iron roof.
You can also get it from the Macys.com for $79.05
6. This delightful piece of two Garlands Harvest Orange Sunflowers dresses up your home in the fall-themed style with all handmade fabric.  Hang it on fireplace mantel, window sill or walls where everyone can see it perfectly.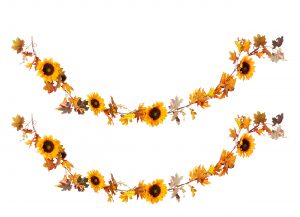 You can also get it from Walmart.com for $9.98
7. Finish off with this embroidered ThresholdTM Green Gather Velvet Square Throw Pillow for your Thanksgiving or fall-themed decor. This elegant accent pillow tones best with the decors in living room with comfortable lounging support.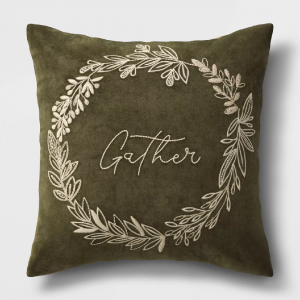 These are soft and silky stuff, but not gaudily glossy. Does not wrinkle, which needs no ironing. The standard and price are in budget absolutely. I placed these pillow covers with IKEA pillow inserts.
You can also get it from Target.com for $20