This year's Halloween is on 31st Oct, and you might wonder what to buy. If you are looking for cheap and awesome looking decorations for this Halloween then you are at the right place. We bring you early Halloween decorations items for this Halloween.
These spooky and uniquely designed stones are perfect for any horror or grim ambiance. You can use it to decorate your yard or at Halloween parties, Carnivals, mazes, and much more. This pack includes 5 pieces of graveyard headstones and 10 pieces of stakes.
This creepy-looking witch is the perfect product to set a spooky mood and a horror ambiance this Halloween. It has head Led Spooky eyes that will glow in the dark. It has a loop in the back so you can hang it anywhere in your yard or at Halloween parties in your home.
 Decorate your Halloweens with this water glittering spinning snow globe candle which will light up your whole Halloween season. Unlike other flameless candles, this lighted snow globe candle is powered by 3 AA batteries and built-in to motor swirl the water. This decoration candle will compliment any All Hallows' Eve theme and is sure to bring Halloween cheer to you and your friends.

Your Halloween decorations ain't completed without these outdoor lighted witch hats. This is a great product for Halloween parties, parties, patio, cosplay decorations,, home, etc. It's also waterproof so you can use it outdoor also. More colors and rich patterns allow you to use it with different scenes on Halloween, it can be ideal for decorating the space.
These skull string lights are perfect to decorate your lawn or home at Halloween. The Halloween string lights can easily be hung on walls, trees, yards, patio, garden, porch, fence, etc. Perfect for dressing up Halloween theme parties, Role-playing parties, carnival, celebration, create atmosphere. Also, there are many color choices available.

Scare your audience with this set of artificial severed body parts. It includes one foot, one arm, 2 hands, and 10 cutoff fingers. Great decoration for the yard for Halloween.
These spider egg sacks lights are great decorations for your Halloween party. The lifelike big black spider wraps around the spider's egg as if about to climb out of the rope. You can place it in homes, yards, haunted houses, and other places you want.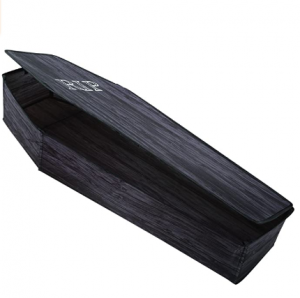 This is a really fun way to add some spooky fun to your Halloween décor. This coffin is very compact and easy to assemble.

  This scary crawling zombie figure is designed for Halloween and fantastic haunted house decorations for any horror themes celebration, ideal for being inserted in the outside cemetery lawn or flower bed or funny zombie apocalypse theme garden yard. It's Made of sturdy plastic, not foam. High quality and durable, water-resistant, and lightweight, not easily damaged. This eerie skeleton look will decorate any garden.

These flameless pumpkins face candles are a great way to decorate your home or your yard for Halloween. It includes 24 pieces of candles. Top-notch materials are used to replicate the feel and look of real candles.
This creepy-looking doll is the best way to scare people on Halloween. She has a button on her chest and when you press it, she will say  different things. a great addition to your Halloween decor.
The solar ghost lights are specially designed for Halloween-themed parties, creating an eerie atmosphere. Waterproof materials can be used for outdoor decoration, suitable for your garden, lawn, party, and create a horrible atmosphere.
This hanging creepy ghost can blow off your mind. In the dark night, When some noise is made, the ghost mask will suddenly shine, with Scary Hanging Reaper Motion Voice Activated with Creepy Sound, to surprise or frighten the visiting guests unexpectedly.