In an era of cute gym outfits, we are unapologetically striving towards making exercise and fitness a priority. With no more fake pants and pocket fewer leggings, we are all coming to terms with the concept of functional leggings with the super high waisted fit and stretchable fabric across. Combined with the comfort and a good fit, these pants are more durable and stretchable for everyday wear.
1. A fitted Ankle yoga Leggings by Marika Evelyn are comfortably sleek with surprising stretching possibilities to pose and flow in your everyday yoga routine.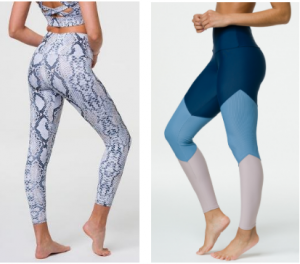 A high waisted ankle length legging for your physical activity with the stylish abstract prints and convenient side pockets are an ideal pair available in a variety of colours from floral sand to paper mache and blueprints.
Get these from Yoga Outlet at $31.95 (available in sizes S-XL and several colours)
2. A pair of workout Printed Yoga Leggings to envision your flexible form of self to slip easily into sculpting your ideal body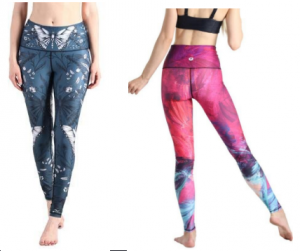 A high waist styled, luxury Italian fabric derived leggings are an ultimate pair of breathable and sweat-wicking yoga pant that keeps your skin protected from UV rays during sweaty workouts. Paired with an amazing fit and durability, the quality is incomparable with long term satisfaction.
Get these from Yoga Democracy at $64.99 (available in all sizes and different prints)
3. Stretch out the stress with High waisted Powerhold with the highest compression that you won't feel swelled up in the middle of your daily yoga exercise.
High-rise leggings with ultimate hold and a perfect silhouette for those with power mesh lining to streamline your shape while boxing and squatting with sweat-wicking fabric and all the way stretchable with hidden pockets.
Get these from Fabletics at $69.95 (available in all sizes and seven colours)
4. Lift your flexibility with lightweight Women Capri to add the perfect amount of slimming compression to your body by staying indoors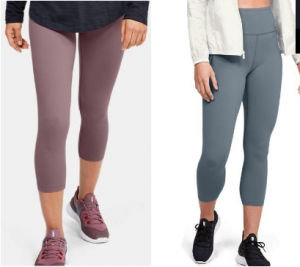 A piece of exclusively lightweight fabric with unique wide and flat waistband softness is sweat-wicking like a champion. Combined with super soft and stretchy performance, it provides support and long-lasting comfort while preventing odour-causing microbes.
Get these from Under Armour at $60 (available in sizes XS-XXL and in few shades)
5. Revive your energy to bend with the Workout based Sports Activewear leggings for a quick Dry Butt lift and tummy control high waist 3D print yoga pants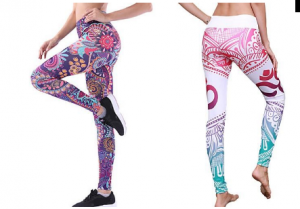 These are an ideal pair for your daily fitness gym workouts with a skinny fit and high elasticity that gently presses your butt to boost volume. Blended with comfortable material of spandex to make your booty curves pop and control your tummy prowess.
Get these from LightintheBox at $11 (available in sizes S-XL and variety of prints)
6. Peace out your daily yoga routine with Audra Pocket Leggings for all the lower body stretching with smooth and comforting morning flexes.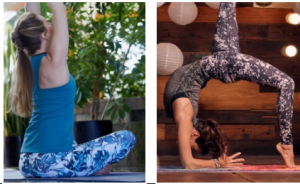 A high waist pocket leggings are a perfect sift and compressive and anti-suffocating that are entirely made of stretchable fabrics to lift, sculpt and pose in every movement. They are available in tropical botanical designs with soothing floral prints and moisture-wicking fabric.
Get these leggings from Gaiam at $54 (available in sizes XS-XL and in trendy prints)
7. Comfortable floral yoga pants that fill in your body like tight, vacuum-packed sausages that you'll want to wear even outside the gym.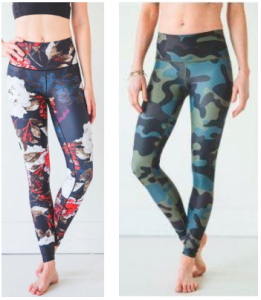 Colorado Threads Floral Yoga Pants are an ideal blend of wide high rise waistband with style and comfort that is a four-way stretch, perfect for yoga, pilates, gym sessions and more. Made with a smooth and comforting fabric and recycled water bottles with moisture-wicking texture.
Get these pants from Evolve Fit Wear at $74 (available in all sizes and trendy prints)
8. Hatch Maternity Leggings with comfortable and bumpy style to get the waist gear to expand smoothly and to keep up with flexible yoga postures.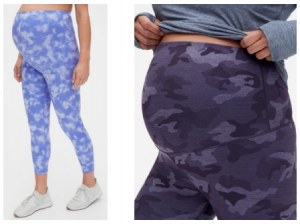 These maternity GapFit full Panel Leggings are flat and wide waistband covered in fabrics with ultimate compression and studio to street style. Combined with breathable, and interlock fabric action with built-in smoothness. There is a four-way stretch that allows free movement while creating smooth lines and superior shape retention.
Get these from Gap at $59.95 (available in sizes XS-XL and different blue shades)
9. These floral harem pants will take you from the couch to yoga mat, to your kitchen work and daily dog walks with ease of complete stretch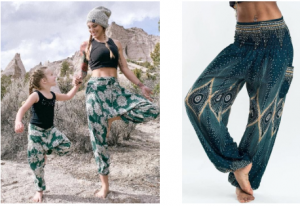 Thai Harem Pants come along with a postcard inside a beige cotton satchel handbag. These are ready to wear yoga companion for travel and exercises, which can be carried for camping as a backpack or like a beach bag that would easily slide like a cushion at your yoga class.
Get these from Buddha Pants at $79.95 (available in all sizes and several prints)